What Are We?
We are a research website that provides an analysis of medical treatments that are independent of the medical system.
We are an excellent source of information on the real medical research – not filtered through the medical establishment for nurse practitioners.
Introduction
This is a research site that is perfect for the needs of nurse practitioners and supports their practice by providing high value on nonmedical establishment controlled information.
This information is research-based but written for non-scientists trying to determine the best treatment and health maintenance options.
Introductory Video
See our introductory video to learn about this site.
Hopefully, this video explains the website.
Now let us discuss the advantages of a site subscription in more detail.
Benefit #1:

Not Controlled by Medical Authorities

If you check all or nearly all of the sources on medical treatments, you will find that they are highly consistent with the medical authorities. If you go to a hospital, that hospital has very little leeway in what they can say — and it has to be consistent with what pharma and medical device manufacturers want. Increasingly the official drugs and treatments depart from the medical research.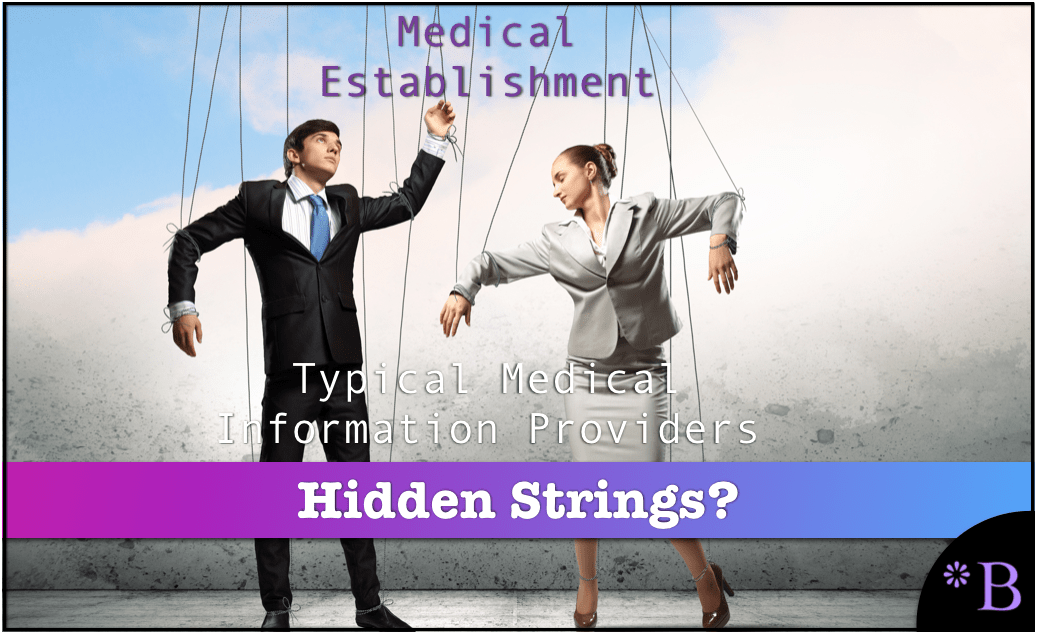 When evaluating health information, one of the most important factors to consider is the financial conflicts of the information provider. 
Financial interests highly control the medical authorities. Hospitals, medical schools, and entities like the American Cancer Society have enormous and undeclared financial ties to the treatments they promote.
Neither these medical authorities nor those that provide compliant coverage of medical authority advice disclose their financial conflicts to their audience and pretend they are "just about public health." Many of these entities also function as non-profits and pay no taxes even though they are run as rapacious profit-maximizing entities. Hospitals are a perfect example of this.
How Do You Get Independent Information Not Controlled by Big Pharma, the NIH, and Other Corrupt Entities?
We have no financial ties with the NIH, CDC, FDA, or pharmaceutical companies and therefore don't have to function as a PR front end for any of these entities. These entities only tangentially support public health, care about their financial biases, and increase their power and funding. Many people look up free medical information online without realizing that popular websites like MedMD and Mayo Clinic have total financial conflicts, a subject we cover in the article Reason to Subscribe: Supporting Independent Medical Analysis.
There is no regulation of online medical information — and if there were, the only regulation would be whether the entity publishes information consistent with these same funders.
Our lack of connection to these entities and the fact we don't look for funding from them means we can tell you the truth that those with financial conflicts cannot.
Mainstream News Segments That Promote Pharmaceutical Messaging
All major establishment media (ABC, NBC, DW, NYT, etc..) are filled with false information about the effectiveness of the vaccines, which is easily disproven by simply reading the submission to the FDA, and this is just the tip of the iceberg. All of the major establishment media interview MDs, which pharmaceutical companies recommend. They will not interview MDs with independent views.
During this segment, Maddow is entirely incorrect in all of her assertions — the network MSNBC is essentially a front end for drug companies, and for what Jimmy Dore estimates is $100,000 per day, Maddow will say anything put in front of her.
One must find non-establishment sources to find information not controlled by pharmaceutical companies.
Benefit #2:

The Ability to be Honest About Treatments That Don't Work and Or Have Strongly Negative Adverse Events

If you read websites on treatments, you will find treatments that are poorly rated or do not work at all that is recommended. Such websites are highly reticent to cover the reality of treatments that do not work. They cover FDA-approved drugs without telling the reader that the FDA regularly approves ineffective and dangerous drugs.
Benefit #3:

Learning About Ineffective Treatments

An enormous number of drugs and treatments are either completely ineffective or effective in the short term but have many negative long-term consequences. You cannot find out what is effective by using the establishment of medical sources like WebMD or the CDC, or Healthline because they are front ends for those entities that make money from these ineffective treatments.
Benefit #4:

Drug Pricing and Sourcing

Subscribers get drug pricing performed by us. Drug pricing is a major issue because the variance in the price of the same drug depends upon its source. This is true for generics as well as for patent drugs. You get our drug pricing experience included in your subscription.
How The Site Works
The site is based on a month-to-month subscription, allowing us to fund the research. You can stop being a subscriber at any time. You can do it yourself or contact us. 
Completed Article Listing
We currently have the following articles on our website for subscribers.
This is over 300 articles and growing.
Large in-depth archive of cancer treatment articles, completely independent of the medical establishment.
An article database that is constantly growing.
Scroll down within the window to see all of the articles.

Comments from People Who Benefited from The Site
Comment #1:

Unique Information
What I really liked about BRTD is that it had articles that gave me information I could not have gotten from other sources. I also found a ton of references that if I wanted I could check on. - Susan Lewis
Comment #2:

Staying Away From Problematic Treatments
I was overwhelmed with information while trying to figure out what to do regarding a health emergency. The best thing for me was I felt the site was reliable. The research is top notch and and shows support for why it says what it does. The explanations also made a lot of sense, and it helped me stay away from some problematic treatments that I was very seriously considering for my wife - Sam Roberts
Comment #3:

Extra Dimension of Analysis
I want to see my doctor about a mental issue with my son, and I found out information at this site (BRTD) about side effects from the ADHD medication that the doctor never shared with me. I am at a loss as to why the problems the studies showed that were so clearly laid out at this site, but without any of that information explained to me at the doctor's office. - Rebecca Schumacher
Comment #4:

Top Flight Support
This site (BRTD) has top flight support. Julie Ryan is both responsive, and understands the articles and has been able to point me in the right direction several times now. I don't know of another site like this that has this type of customer service, even more impressive when you consider the cost. All the communication is through texting, which is very convenient for me. Normally I get a response within a few hours - Tim Anders
Why is This Essential For Nurse Practitioners?
Most of our subscribers find us through our articles. However, for nurse practitioners, we offer group subscriptions. This allows the nurse practitioners to share the articles with multiple patients. We can create custom plans with 30 or 50 or whatever number of patients so nurse practitioners can share the subscription, but naturally, the price is lower per person. The first thing to do is see our Article Index.
This allows you to have another value-added item to your practice for only a few hundred dollars per month.
We are very clear throughout the site that we have zero financial conflicts. So you are sharing as unbiased information as there can be.
How to Test Us Out
You can test us by signing up for a group subscription, allowing you to share your subscription with three others. If it is to your liking and you want to expand to share with more patients, contact us, and we can develop a custom group subscription for you. This will allow you to fit in one article (as an example) with a treatment plan.
Please either reply to our initial text to you or reach out to us through the chat widget in the lower right-hand corner of this website.
Become a Subscriber to Our Site